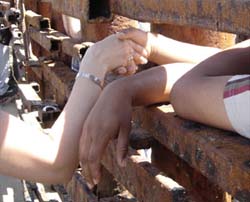 Welcome to The Border Meetup
The Border Meetup Group activities consist of events in which people from both sides of the San Diego/Tijuana border meet through the border fence on the beach or at Friendship Park at the San Diego/Tijuana border. Our goal is to bring people together by finding a theme that has no borders, often has a direct effect on improving the region, and always results in friendships across cultural boundaries.
Flyer with hands connecting the symbol of unity disrupting the border fence with the San Diego skyline on one side and Tijuana on the other
Signs of friendship beyond borders March 31 12:00 h
Do you have a passion for something in life? You can have an event that embraces and shares your passion across borders and partner with us for a border encounter event. We will help you organize the event for FREE! Contact us today at borderencuentro@gmail.com.